Tour Notes Currency -
Argentina - peso 5.5 - £1 Chile - peso 725 to £1 or 518 for $1
Tour Guides
Our land tour was booked through Protours Chile and our agent, Rudyard was extremely helpful. The only hiccup we had in the arrangements was that no vouchers had been left for us at the Hostel Lago Grey and no-one knew about our boat trip to see the glacier, nor what time we were departing to go to Puerto Natales.
Overall our tour guides were excellent and provided us with lots of interesting information. We were amused by our guide on Easter Island who had learnt all the information 'parrot fashion' and so it had to be relayed in the right order otherwise she got confused and had to check her head! Our thanks to Sebastian in El Calafate, the very knowledgable, Mateus, who drove us to Torres del Paine, and took us on the tour of the many interesting angles of the peaks and lakes. We drove from Peurto Natales to Punta Arenas with Mario, our guide and driver, Isaac. In Santiago we had a wonderfully enthusiastic, young guide Alihandra, who is getting married in April. We wish her every happiness.
Weather
Patagonia has a very cold wind so wrap up warm with layers – take hat, gloves & scarf and very warm jacket.
Easter Island - The weather is very variable from sun, wind, raindrops and cloud. Watch out for getting sunburnt – this can even happen if you have applied sun cream!
Food & Drink
Not being into enchiladas and pastry type food, the Argentinian food was not particularly appealing to me. However they are known for their tasty steaks and lamb was the favourite in the Patagonia region. The lamb skins are opened up and cooked over an open fire.

The calafate berry is made into all sorts of produce, jam, sweets, liqueur. According to tradition, whoever eats the 'calafate' berry will return for more. In contrast the locals drank something called mate, which is a drink prepared from steeping dried leaves of yerba mate. It is particularly bitter.

We enjoyed the fresh fish in both Patagonia and Easter Island, although you have to ensure that it's not overcooked. South Patagonia has some very large, succulent king crab. A tasty regional drink is the cocktail, pisco sour made from pisco, lime juice, egg whites, simple syrup and regional bitters. Of course, one can't forget to mention the wines. We found the Chilean carmeniere very palatable.
Restaurants

We enjoyed the following restaurants:
El Calafate:
Pascasio – Gourmet food, well presented and very tasty. The wines are expensive.
Hotel Kosten Aike - excellent cuisine at a reasonable cost. We stayed here and the scrambled egg for breakfast was the best we had the whole trip.
La Tablita - recommended by our guide as the best lamb in town, we were not disappointed. We enjoyed the patagonia lamb, sirloin and tenderloin for 2 people costing 115pesos. We also enjoyed the fries with garlic and wine. You do need to book. We couldn't get in for the first 2 nights requested.

Torres del Paine, Hotel Lago Grey – Lunch and dinner is a set menu (dinner is 35,000 pesos), however, you can have one or two of the courses at a reduced price. The service was excellent

Puerto Natales, Hotel Indigo – Excellent food at a very reasonable cost – beef carpaccio, king crab, salmon, Perez Cruz limited edition Carmeniere wine, all for just 52,000 pesos.

Punta Arenas, Sotito's – excellent fish restaurant with specialty of king crab, wild salmon and eel. but you must pre book. The plate of crab is massive!

Easter Island
The restaurants are all pretty expensive, but most of the food does have to be shipped in. The menu for fish is either raw or cooked - but we found the cooked fish to be overcooked and so it is very dry. We learnt to ask for fish to be medium rare so that it retained its moisture. Wine is 9500 pesos for half bottle and 15000pesos for a bottle. Main course meals are between 10,000 and 20,000 irrespective of quality. Don't expect gourmet food, it's all pretty basic. They have a tasty Rape Rape which is a small lobster.
We enjoyed these restaurants - Kanahua, Hotu Matua, Port restaurant, Hotel Iorana and Heu'u, which was definately the best with excellent food and very friendly service. It was the best cooked fish we had.
Santiago
Hotel San Francisco – Hidden in the back of the menu is a sheet about the gourmet taster menu for 18800 pesos. It is excellent and fully recommended. The basil ice-cream is WOW.
Opera/Cathedral – excellent food and service from the only waitress who was able to speak a little English'
Profondo (deep blue) in Bellevue. Excellent fish restaurant
Patagonia restaurant. Good menu.
Alto Bellavista – excellent food & very friendly service with excellent English

Vina del Mar – Reinata fish. Excellent lunch, view of beach, very reasonable cost.

Hotels
El Calafate, Hotel Kosten Aike – excellent hotel, centrally located, gym and Jacuzzi (if you have the time to enjoy them)
Torres del Paine, Hosteliera Lago Grey – room 701 is best one – panoramic windows providing an excellent view of the lake. Lots of wildlife -foxes, parrots, eagles. Some interesting local walks.

Puerto Natales, Hotel Indigo – excellent hotel. Very modern with a really interesting interior. As it was a very special occasion we had a suite with bathtub in the room. There are 3 large outdoor Jacuzzis, a sauna and spa facilities on the top floor. Fully recommend this hotel and its restaurant.

Punta Arenas, Hotel Jose Nogueira- excellent, old colonial style hotel just off the central square.

Santiago, Hotel San Francisco. They seem to be money opportunists! In the room are notices next to the water for $10, use of coffee machine $11, and a box of 2 wines for $39 (US dollars not pesos) There is a even a notice about taking accessories from the bathroom, ie soap, shampoos, etc. It says to ask reception for a price! In most hotels on the trip the internet has been free, however there is a charge here for 5000 pesos for 2 hours. Have a back room so you don't have the street noise. The hotel does not sell stamps so I couldn't post my postcards.

Easter Island, Hotel Iorana – a very comfortable hotel on the clifftop with views over the sea. Close to the airport and about 30 mins walk from the centre of the town. A taxi ride is only US$3. Wireless internet in the reception lounge. Lovely gardens with wild chickens, which you hear in the morning!

Observations
In Patagonia and Santiago they speak Chilean Spanish – some areas don't speak much English and we were surprised that a café near to the main square in Santiago has no English speaking staff. In Easter Island they have their own Rapa Nui language. We didn't see many European tourists. They are mainly American.

El Calafate
The Wailucho caves were interesting but there are not many original rock paintings. The caves are more like rock shelters.

En route to Torres del Paine – we saw lots of wild Guanaco and Rhea. TheSteppe was a vast, relatively flat expanse.

If you are taking the boat from Torres del Paine to Peurto Natales wrap up warm. You are given warm long waterproof overcoats for the trip on the zodiac boats. We then stopped late morning for a hot coffee, bread and scrambled egg. We visited the Serrano glacier before boarding the 21st May III boat which is very comfortable – the upstairs cabin has bench seats on either side and a high window so not much chance of a good view. It's best to go downstairs. All travellers were given lunch of soup and BBQ lamb at the Estancia Perales. It was very windy so wrap up warm. When we arrived at our hotel, we were disappointed that our suitcases arrived 30 minutes after us which was annoying as we wanted to enjoy the outside Jacuzzi whilst it was still sunny.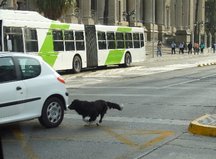 Santiago
You soon become aware of the many stray dogs. They chase the cars down the street. However they do stop at traffic lights to cross the road! The number of pharmacies is also noticeable with one of practically every street corner!
Easter Island
The taxis are cheap and the friendly natives will offer you a lift if you are off the beaten track. Apparently only Rapa Nui natives can only buy land. However, there are 'Chilean girls' who go to Easter Island and get pregnant so their children can buy land. All children are regarded as legitimate even if the Mother is not married.
The roads are in a poor condition with only 2 tarmac roads on the island. The buildings are rather tatty and old – mainly wooden shacks with tin roofs. The roads are very dusty and your feet get filthy. Even your tee-shirts get dirty quickly. Horses are a major form of transport. They roam freely around the streets.
Flights

Unfortunately, we had problems with our flights!
Aerolineas Argentias - We departed from Buenos Aires towards El Calafate stopping at Trelew, a town in the middle of nowhere! At Trelew we were told that El Calafate airport was closed due to a problem with the radar. An interesting dispute ensued between the 'hot blooded' Argentinians and the airline staff as they argued about flying to Rio Gallegos and being bused some 5 hours to El Calafate or staying at Trelew or being taken back to Buenos Aires for the night, with no promise of when we would be taken to El Calafate. The latter was the case but then there were arguments at Buenos Aires airport for several hours until the locals got the commitment of Aerolineas Argentias to lay on another plane the following day, (which departed at 12.10). We were all provided accommodation at the Presidente Hotel with a mass catered dinner of enchaladas and spaghetti bolognaise washed down with a jug of cola. It looked terrible so we passed on that and ate in the main restaurant. There was further chaos at breakfast as some people were told their flight was going earlier than planned. We eventually got to El Calafate and our tour guide did manage to take us to the caves, albeit later than planned. To their credit, the airline staff were very friendly and helpful.
We were given a voucher for the difference in the cost of our flight. Upon our return to the UK this was quickly refunded to us. Excellent customer service.
LAN chile flights – despite reserving our seats three times we still had problems. Whilst in Punta Arenas we were advised to go online and print out a boarding pass – apparently, the airline has a reputation for bumping you off a flight. We went online and discovered that there were only 2 middle seats available, far away from each other. So we reserved those and printed out the boarding pass. We also reserved our seats together for the flight to Easter Island. We then got to the airport early and were able to change our seats so that we could sit together with a window seat on both the flights to Santiago and Easter Island. However, we then had problems on the return flight from Easter Island. Despite having reserved them again online when we got to the airport we were told that there was only one business class seat available and that one of us had to travel economy. We were forced to sign an agreement form before we could get on the flight. We noted that one of the seats in business class was occupied for only part of the flight by a member of the crew. Apparently, it is quite a frequent occurrence that they overbook the business class and downgrade people. You have to wonder why – surely tourists travelling to Easter Island are not going to miss their flight off the island as there is no other way home and the airport is a maximum 20 minutes from any hotel on the island! The staff were most unhelpful and it was a case of you have what you are given!

We were given a travel voucher for $500 only, which is far less than the difference of an economy and business class fare. However, upon our return to the UK we tried to redeem the voucher and requested the compensation money. Despite many emails and phone calls it was not forthcoming. There was one excuse after another. We had confirmation from Customer Relations on 15th April that it had been approved and we just had to give our credit card number for the refund, which we did. More chasing.. On 19th May we had an email stating that it was being processed and would be paid that month. The payment was still not made so more chasing.... On 26th July, I am given a case number! Still no sight of the money. Still I continue to call but there comes a time when I feel that I must lodge a complaint with ABTA and also post on various travel websites to warn other travelers. LAN Chile has very, very bad customer service!!!