Dining Delights



Green T. House
In China, the connections between tea and philosophy have always been close and that is very evident at the Green T. House. We attended a Tea Tasting event at what is claimed to be Beijing's first luxury New-China Lifetsyle Complex. The Green T. House, created out of passion by tea lover, Zhang Jin Jie is a "tea experience" that offers a spa, dining and accommodation whilst encompassing music, art, architecture, and of course, many varieties of tea. There are various areas for relaxation and partaking in the art of tea-tasting, all set amid pebbled gardens around a central lake.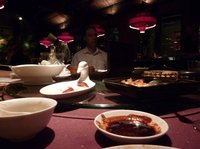 Duck De Chine
Located away from street view just behind Pacific Century Place in Sanlitun, Duck de Chine is part of the 1949 Hidden City dining and nightlife complex. The restaurant's industrial chic decor creates a relaxed, classy ambiance, while the menu incorporates both Chinese and French duck-roasting traditions that offer a range of duck and non-duck dishes. The classic Peking duck combo – crisp roast duck to roll in pancakes with plum sauce, spring onion and cucumber was most enjoyable. There is a 10 per cent service charge and an English menu It was voted "Outstanding Beijing Duck" in the Beijinger's 2011 Restaurant Awards.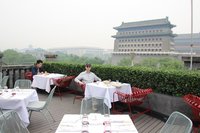 Capital M, south of Tianamen Square
The terrace affords one of the most impressive views in the city, while the ornate dining room includes its signature parquet flooring and elegant lighting. There's a range of fine wines and classic cocktails on offer at the bar, and small dishes, canapés and desserts are served in the Oval Room from early evening. It has been voted "Best Afternoon Tea," "Best High End Brunch," "Outstanding Decor," "Outstanding for a Romantic Meal," "Outstanding for Impressing Visitors" and "Outstanding Restaurant of the Year (non-Chinese)" in the Beijinger's 2011 Reader Restaurant Awards.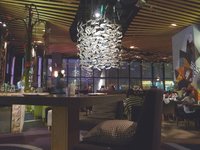 Hatsume Japanese restaurant
Hatsune, situated to the rear of the Sanlitan shopping village is essentially Californian Japanese food, so they are big on the hand rolls but not overly Japanese in the décor, although it is open plan and welcoming with interesting unusual swirling balls of dangling fish from the ceiling. The food was excellent and very tasty and the service was excellent.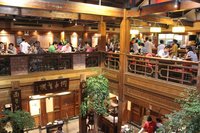 Na Jia Xiao Guan
Na Jia Xiao Guan is an old imperial Chinese restaurant. You have too book as there is always a long queue outside of people wanting to dine. It's an old school, in an old Hutong with great old furniture, and chinawear. They have separate rooms for private small parties of 4-10 people, which look very inviting. The upstairs is the best place to sit so you can see the view over the balcony. In the summer it opens up the small outdoor patio in a stone walled setting on roof. The menu is a large book of pictures and the food is really excellent and good value. The staff are all very friendly and attentive. The ambience is excellent – it is a great old Beijing experience not to be missed.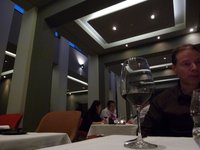 Temple Restaurant Beijing
The history of the Temple Restaurant Beijing compound spans 600 years: it includes ancient halls of worship, factories constructed after the Communist takeover and slogans left over from the Cultural Revolution. Renovation began in 2008, focussed on preserving all the layers of history and keeping as much as possible of the original structures. The restaurant is modern and light and serves contemporary European cuisine.